Super San Diego Comic-Con 2019
Comic-Con 50!

Spoiler alert: I didn't get a shirt this year so I'm low-key very disappointed, not just because I'm an entitled freebie slut, but because it had become somewhat of a tradition for me to get a new soft-as-fuck pajama shirt every year at SDCC; when I wear it, the fun memories come rushing back. Alas, maybe I should just forget 2019?

One might say I tried moderately hard this year in general, but it left me defeated and I find myself in a very reflective mood.

This year's cosplay tally winners: Scoops Ahoy and Fat Thor.
Preparation
This year, I made a table in Googledocs, listing out all the things I wanted to potentially do with times, locations, and reason. I was determined to stick to a schedule and make sure I didn't feel major FOMO (narrator: he did not stick to a schedule and he felt major FOMO).

I tried to mentally will myself to prepare for a weekend of great stress and great fun. It always is a mix of both, in the end.

I also meal prepped and planned out all my meals because last year, I was nutrient-deficient and just ate tortilla chips and guacamole.

I made a Twitter list to properly follow social media accounts to keep me updated about all the happenings around the area all weekend long. We also tried to learn from our other friends over the weekend about how to properly have a good time and getting all the secret and limited exclusive stuff.

This year, we decided to go for three days instead of the usual two. Friday, Saturday, and Sunday. So naturally, I took Monday off for self-care. We keep joking(?) about going all four days + preview night + the rest of the week for vacation next year, but I don't know if my mind and body can handle that. This year was rough due to a combination of a lot of shit and misplaced expectations.
Cosplays
For some reason, I thought it would be manageable to cosplay all three days we were there and

Friday: On Thursday night, on the way down to San Diego, I found out Tricia and Lohanne were cosplaying Stranger Things' Dustin and Lucas, respectively. I jokingly said I wanted to cosplay Eleven, and then we figured out how to make it work with a closet cosplay. The lesson I learned was that makeup is a pain when you want to rub your eyes or your nose on accident and smudge everything or when it drips into your eyes and burns. Luckily, clothes were quite comfortable, so I managed.

Saturday: Earlier in the week, we decided to do a Marvel group cosplay to do an allegedly fun exclusive event. Pressed for time, I went with Spider-Man Homecoming homemade suit. Had to buy stuff and get creative a day before leaving. Thankfully, it's semi-closet cosplay, Goodwill had some stuff, and my friends are creative. The suit turned out awesome, but it was really hot and not the most breathable. The mask was only wearable for the picture. I do like the suit though, so I'll probably continue to refine it for the future.

Sunday: The only actually planned cosplay was our group Umbrella Academy cosplay. Luckily, I didn't have to try to hard for this one thanks to another closet cosplay and raiding friends' closets. Nonetheless, wearing two hoodies for a Ben Hargreeves cosplay was pretty intense and only really doable for the photo. Tricia made us dope masks though. If I do this one again, I'd like to do the tentacles somehow. Or hopefully, he'll get a better outfit in season 2.

Probably not the best idea to throw together three cosplays in a small span of time, but I did it! I'm huge on comfort, so I should always bring a change of clothes because you never know. Also, having more prep time will be much wiser.
Sustenance
If you know me, you know I like to be prepared for all day cons by having food with me. This year, I was going for a lot of sustenance and nutrition. It was a bonus that I saved money by packing food.

For breakfast for three days, I brought along my vegan mashed potatoes recipe that I've been refining. It's quick, easy, and delicious. It's edible hot or cold or room-temperature. It's rather healthy and it kept my belly full.

For lunch, I brought along pasta and also a black bean mix recipe, both vegan options that are healthy and would keep me full. I didn't eat too much of this because for some reason, I wasn't overly hungry during the day. I tried to make time to eat it because I wanted to make sure I wasn't just starving myself accidentally. I ended up skipping lunch on Saturday (not much appetite) and dinner on Sunday (do wine and Triscuits count, actually?).
For dinner, I ended up going to The Modern Vegan, a place with vegan twists on everyday favorites. I got the chicken and waffles (waffles, crispy tofu patty that tasted very meaty, asparagus, mashed potatoes, syrup, butter) and tried some of the loaded nachos (all the good stuff with some ground up TVP) as well. Both were very delicious! It's a bit pricey, but it was a much-needed end of day food binge. I ate the leftovers on Saturday night and they were decent.

So I ate mostly vegan (which is a great success), but I did go to The Snowpiercer booth (on TBS) and got their cricket bar because that seemed interesting. It was delicious, like a Clif Bar, so of course, a lot of sugar. It was fruits, peanut butter, chocolate, and cricket powder, though you couldn't taste it at all. Overall, a good energy boost in the middle of the day. I also had free Ben and Jerry's Hulk flavor on the IMDboat, which was actually not good at all: melted, but also way too sweet and not refreshing. It was a Hershey's bar, chocolate ice cream, topped green frosting with chocolate sprinkles. Overkill.

I'm already thinking about what I want to bring to the next Con I go to, because it's much easier than I thought. Cut up fruits are always a good option. The mashed potatoes were great. I'm thinking maybe something lighter than pasta next time. I also need some quick sugar to get me through the day.

I brought a CamelBak this year because it seemed easier to carry than a water bottle. It was definitely worth it, though I had to remind myself to continually stay hydrated. I also brought my Starbucks canteen and filled up with Matcha Lemonade (naturally vegan!), which was refreshing and sweet and light. I tried drinking a box wine courtesy of Amadeo and Cat, but that turned out not a good idea since it was a white and it was warm. I saved it for Sunday night though.
Exhibit Floor
I didn't get hurt this year by anyone else, so that's great news. I didn't get yelled at (too much), either. But my feet were in pain (less steps than last year actually) and my mind withered slowly over time. After I got home, I realized my two big toes have bruises under the nails. I've never come away from a con with wounds, so it's definitely the epitome of #sdcc2019.

It's a good idea to avoid the high traffic booths during high traffic times (giveaways, signings). I'm glad I listened to my own advice this year.

I didn't see any shopping opportunities that I particularly wanted this year, so that's both a good and bad thing. Nothing appeals to me anymore, so I guess one can say my journey to minimalism has been a success so far.

There weren't too many giveaway booths that I saw, though I wasn't looking too closely. The exclusive booths that my friends wanted to go to (and also so I could get things for others) filled up so quickly with capped lines, coming back at a different time, more capped lines, and then eventually selling out of the item wanted. It's a hectic mess that's not always clear and they need to come up with a better management system.

As I said in my preface, I didn't get a free shirt this year. I didn't even get into the Netflix booth to get the opportunity to try for a free shirt. But I did get two tote bags, a fanny pack, a lanyard, and three pins, all of which are pretty dope.

On Friday, we tried to get to the Marvel booth to get exclusive signings or merchandise and they shuffled us in and around the convention in a huge herd. By the time we got in, it was completely sold out. We tried to do standby for Bob's Burgers signings, but they cut off right in front of us. We tried again for Archer, but no luck.

On Saturday, we tried another pass around the floor briefly, but it was too chaotic and I was already tired.

On Sunday, we took a slightly different approach and I got some freebies and also played some games with Amadeo. I also got to snag some stuff for my cousin, finally. This was the most successful Floor day.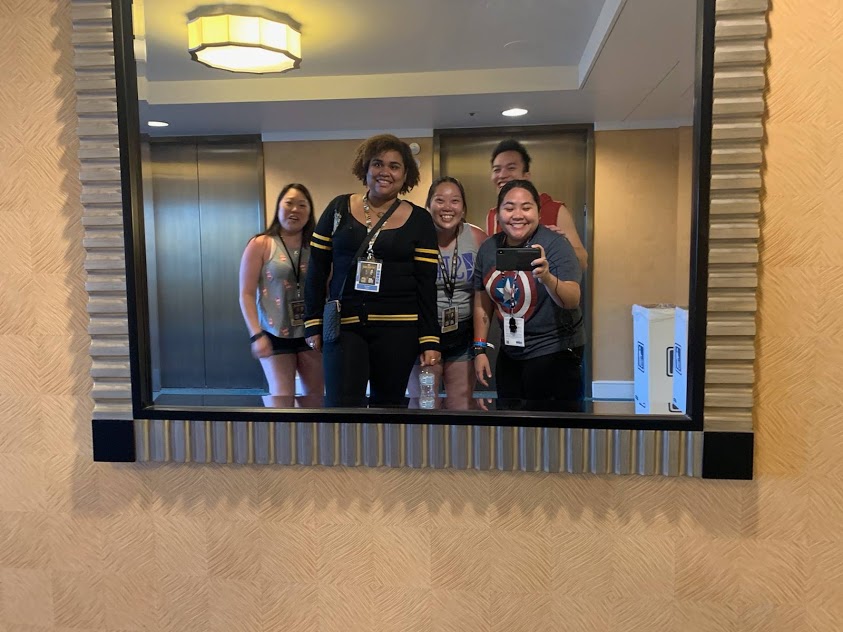 Panels
Hall H seemed to make a comeback this year, as people were clamoring to get in. They even moved the line far away. The traffic was still ridiculous, though. I didn't even try for Indigo or 20 this year, as I had other priorities.

On Friday, the only panel I really wanted to go to was The Rook, so I could say hi to Olivia Munn. I ended up sitting in a panel for AMC's The Terror season 2, which actually looks great! I would like to watch both shows eventually. I got Olivia to sign my last autograph-less magazine and I got two hugs and she recognized me and we chatted for a bit and she was sweet and funny and I feel like high school me all over again. This was the perfect way to end Friday, which had been absolutely crappy.

On Saturday, we briefly sat in Kevin Smith's Hall H panel, which was expectedly funny. It was too cold and we were all tired and cranky, so we ended up leaving partway through.

On Sunday, I got to the Super Asian America panel, which is a highlight of every year (perhaps the main reason I buy a Sunday ticket). It was packed, which is awesome to see. I love the exposure to new Asians in media and I enjoy listening to people who understand similar struggles and have to deal with this country.

There were other panels I wanted to see, but I just prioritized different things instead. There never is enough time to get to all the panels, especially factoring in such a wild variable like wait times.
Activations and Off-sites
They seemed fun this year, but once again, there was just no time. Maybe if we don't get a badge for one of the days, it would be worth it. But lines start a couple hours early and they are hours long in terms of waiting. You do it for 15 minutes and then you may get something out of it. But they usually cap or have huge waits, so you end up having to pick one or prioritizing something else.

Also, it was hot.

We didn't do any outdoors on Friday.

Saturday was a different story. Because we were just late and not aggressive enough on Friday, we decided to try on Saturday. We woke up super early (still an hour late, but still) to head outside to the IMDboat to see the Russo brothers and special guests and take pictures and get ice cream.

Here's a breakdown of how it was the worst day I've ever conned:
0530: wake up
0700: arrive, we are essentially the second group there, but it wasn't clear what was happening; we all eventually made our own line and we ended up being first 30; that's good news so far
0900: still shrouded in mystery, we finally find out that they're accepting our spot in this fake line and that we'll be checking in and everything; we're told the even will be at 2:15, an hour later than advertised
1100: they hand out wristbands finally, so it looks like we're one step closer to actually getting in a cool, exclusive event; it gets hotter and hotter and I'm just dying
1400: at some point, we are moved to another line, but maintain our spot (they managed this event quite well, even though it was very confusing what was happening); they give us water, thankfully
????: we end up taking a group cosplay picture (I later find out I was cut just out of frame), but the Russos aren't there; the only guest is Anthony Mackie
????: we board the boat
????: they rush us through and hand us some nasty-ass ice cream (I'm bitter, but only slightly biased), to be honest, I don't know who gave me my ice cream, didn't have a chance to say hi or anything
????: I'm outside burning up just thinking about how I got nothing out of that (Lohanne got to take a picture with Mackie and Russos, Tricia got to meet some Flash people) and I'm just completely over everything at this point

It was a complete waste of my Saturday as I could have been doing other fun things (perhaps indoor-related things!), but this took up so much time, I was so exhausted after that we went to our friends' hotel room and stayed there until 5:30, therefore literally missing everything else I wanted to do because I just didn't have the mental or physical capacity to try. The only reason we even went to the floor or a panel was because we felt like it'd be a wasted ticket if we at least didn't do something inside.

Sunday, we finally wandered to the FX area, which is usually pretty cool. This time, there was a long line to get into the area, then you get in another line to get a badge, then you get in another line for the activation/freebie. Kind of ridiculous, but it didn't seem as chaotic as prior years (it was Sunday, though). Not enough shade outside, but the breeze was wonderful. Always thankful that they have an SPF station, as well.
Lodging
We stayed at Lohanne's aunt's place again this year, which I absolutely love. It's such a generous gift (and it's literally right next to The Modern Vegan). It's not far from the convention center, which is great.

That being said, we did enjoy a quick nap at our friends' hotel room at the Marriot on Saturday, and it saved my life. Saturday was ROUGH, but that was the only thing that helped. It was so close too.

We did try for hotel this year, but no luck. Next year, we'd like to try again just for ease of access. I did see Aaron Paul in front of the bathroom while I went to go poop at the Bayfront, so there's that too.
Takeaways
I really need to curb my con expectations and probably stop being so greedy. Channel my LACC vibes, perhaps.

I also need to think about my expectations and priorities. What do I really want out of this experience?

I definitely don't want to do stupid things (especially if they're outdoors) that are vague without any guarantees. I definitely don't want to wait in a line for half a day.

I perhaps don't think I'm cut out for the hardcore way of SDCC, and since being a partial tryhard doesn't work, I would like for future-con-going Brian to channel his inner waterbender and just go with the flow. It's all about shifting expectations and adapting to situations and listening to one's body/mind. I need to take a step back and not become one of those con people that everyone hates. In some moments, when I just wasn't enjoying myself, I had to take a step back and wonder why. I was causing my own suffering and I was the only one that could end it.

In the end, as I'm writing this, I'm still mad about Saturday, but I find myself gravitating towards the highlights and the slew of fun memories we made all weekend long. We can laugh about The Saturday July 20, 2019 Disaster soon…just not right now.